Author
GIA's Jewelry Manufacturing Arts Instructors
Website: http://www.gia.edu/research-resources/library/tips-from-the-bench/inde
---
Articles and Videos by GIA's Jewelry Manufacturing Arts Instructors:
GIA recently released a video that provides an overview of lead glass-filled rubies and explains why it has begun to call them a "manufactured product" on reports. The video, which was created to educate the trade and public, also covers how to identify lead glass-filled rubies with a microscope and how to care for them. This article offers an in-depth understanding of this material.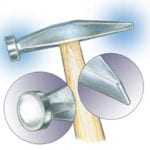 Jewelers and metalsmiths have had to make their own tools throughout the ages to accomplish different tasks at the jeweler's bench. One tool a jeweler can't do without is a hammer. Today, many styles of hammers, made in a variety of shapes and materials, are available to the jeweler. The hammer used here as an example of how to make modifications is used for riveting, shaping, forming and working on rings for sizing. The hammer has one round/slightly contoured end (called the pean) one chisel-shaped end and a hardwood handle..
The soldering process, used extensively in all aspects of jewelry manufacturing and repair, joins two or more pieces of metal together and when done properly, will result in a virtually undetectable seam. A better understanding of the soldering process can help you decide how to approach a particular soldering project.
In the course of my 30 years in the jewelry industry, I can recall many instances of damaged equipment and potentially dangerous situations caused by how the handpiece is connected to the flexshaft. Here are a few observations that can make your equipment last longer and prevent possible injury.
The flexible shaft machine, commonly called a "flexshaft," is a combination of a motor, handpiece and the flexible shaft that connects the two. The machine is usually operated by a foot pedal. Because jewelers often use more than one handpiece during the workday, the procedure of connecting a handpiece to the flexible shaft is a common operation, but is often done incorrectly.
One persistent daily challenge a bench jeweler faces is trying to figure out the best way to hold onto tiny, delicate objects while performing mechanical operations such as sawing, filing or burring bearings for stone setting.
There are dozens of tools available for this purpose, some centuries old and some that are modern, sophisticated and often quite expensive. An alternative is to make a simple modification to a wooden ring clamp which holds rings and other jewelry items that turns it into a useful, multi-function holder.