How to Enamel: Practical Enameling of Jewelry with Hard Enamels by Howard M. Chapin, 1911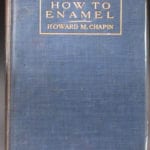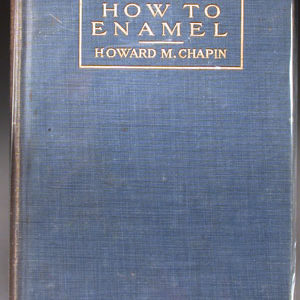 This 1911 book is a great introduction to enameling, and discussion of definitions and techniques of various kinds of enameling. There is insight into how enamels were prepared and delivered, as chunks or large 'plates' that the enamellist broke up and ground for use. This is really gritty, authentic enameling preparation, with all the hand grinding information one would ever want to know.
This is one of the seminal works that led to the 'washing of enamel" approach common in North America. According to Bill Helwig, America's top enamellist, there was a mistranslation from a French original in the 19th century, that led to the idea of washing enamel. I personally think Bill's dry sifting approach is accurate and sensible. In any case, many enamellists happily follow the washing and wet approach.
The techniques are all thoroughly described, and thoughtfully presented. There are some forgotten techniques presented such as 'glitter enamel', where ground up goldstone (aventurine) is added to the enamel for a glittering effect. As well, the subtleties of firing enamel in wood, coal, gas kilns are addressed. Another forgotten approach is to create enamel photographs, firing images onto the enamel. This has all the recipes and steps explained (albeit rather complicated).
There is the occasional editorial comment such as "the vulgar modern taste permits several different shades side by side without partitions, or even blended". The language is sometimes interesting, for instance flux is called fondant.
Many observations and tips let you know the author is very experienced at enameling. For instance cooling red enamel in heavy machine oil enhances the color. Instructions for making your own stoning sticks by mixing shellac and emery powder echo the tricks that gem cutters use. Another good idea is making a quick support mold in shellac (we might use Jett Sett) to hold the enamel securely while stoning. A transfer method for enamel painting uses a sheet of rubber to take enamel with oil from an etched copper plate and thus have all the outlines for the enamel painting deposited on the prepared enameled sheet.
As with all these old books you need to evaluate procedures in terms of safety-many of the approaches need a fume hood today. Some of the safety comments are almost humorous: "As the acid fumes eat the flesh quite rapidly, it is advisable to wear rubber gloves when dipping the metals."
Chapters include: Enamel preparation, metals preparation, charging enamel, firing, stoning, polishing, foils, using paillons, glitter enamel, matt finishes, Plique-a-jour, enamel painting, decal use, and creating photographs on enameled surfaces.
File Size: 2.44MB, 86 pages.