Mixed Metals or Metallic Alloys by Arthur H. Hiorns, 1912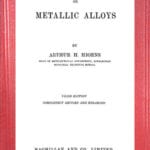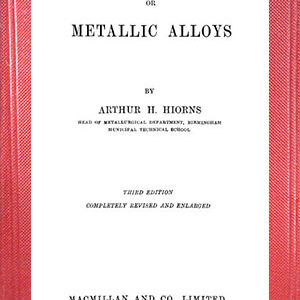 This third edition, published in 1912, is 495 thorough, dense, worthwhile pages of metallurgical and alloy information, almost all of it completely accurate today. The first edition was published in 1890. It begins with an excellent history of metal usage through time, the alloys, colors and characteristics used by different cultures. Then there is a very good review of basic chemistry and its concepts. A remarkable book!
As a jeweler or a metalsmith this book deserves to be in your collection. It has literally everything about literally all metals and alloys used by us, as well as lots and lots of technical methods for casting and metal working. There is an enormous section on brasses and related alloys with full recipes. The same for bronzes. A chapter on casting for sand, investments and statues has many intriguing details. Japanese alloys and solutions for metal coloring are addressed. Mokume making is described in what must be one of the first Western books to do so. Precious metals, silver and gold alloys are well examined. Gold cost just one shilling an ounce back then.
Fluxes, crucible materials, pickles and polishing are addressed. Essential for any serious metals person.
An excellent chapter on precious metals and alloys, the only chapter on mercury amalgams I've ever seen in such detail, (note that you should do it-just for historical understanding) and even recipes for silvering/mirroring glass. There is the occasional surprise, like the description of uranium and its uses – with no mention of radiation because they had not discovered the down side of the metal yet.
If you have any interest in alloying metals this book is an absolute must-have.
Charles Lewton-Brain © 2012
File Size: 22.2MB, 495 Pages