The cliche is coming undone. Instead of laboriously asserting themselves on the market, as is apparently befitting of a genuine artist, young designers are joining forces in order to form loose partnerships. Pooling ideas, using joint infrastructure and ensuring professional presentation – these are their strengths.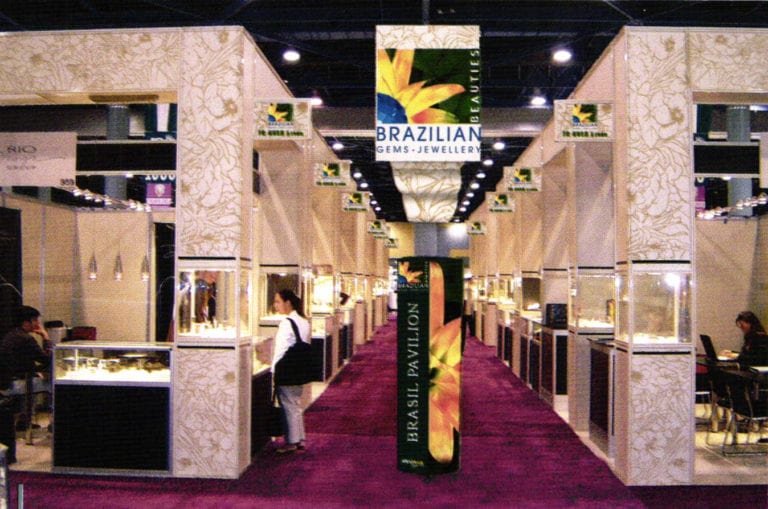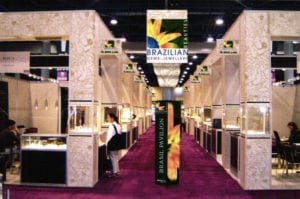 Joint presentations by several manufacturers from one country to form a Country Pavilion are a frequent occurence, especially at major, international trade shows – like here the Brazilian Pavilion at the JCK, Las Vegas 2006. Joint presentations by several companies are often more effective at drawing a crowd than many individual presentations, spread over the trade show grounds
"Each one of us wanted our products to be presented attractively in public. A professional Internet website, well-designed communication materials and all those things with which one can draw the attention of customers and interested parties, potential customers therefore, to ourselves and our jewelry on a regular basis," says Udo Jung, one of five members in the German jewelry group JUNI concerning the idea behind founding the association. Over seven years ago, he and his colleagues Dorothea Brill, Claudia Geiger, Patrick Malotki and Oliver Schmidt decided to form the jewelry group JUNI for many reasons, also because these kinds of wishes and ideas are easier to finance if several people are involved. Thanks to the professional communication work, the joint trade fair participation and the recognizable, attractive corporate design, this alliance of interests has long since become a bona fide jewelry brand. "None of us would have been able to afford it on their own," says Udo Jung about the communication materials such as folded flyers, photo CDs, the Internet site or brochures – not to mention advertisements in specialist journals and popular magazines. The designers are also linked by their high standards of quality and design in the individual jewelry lines. After all, the five by no means surrendered their individuality in terms of design in favor of a form of group affiliation. More than that, they are on hand to provide each other with feedback on the individual collections, so as to be able to develop them in a manner that suits the market. The group members also lend a helping hand in terms of tools or special crafts or technical skills.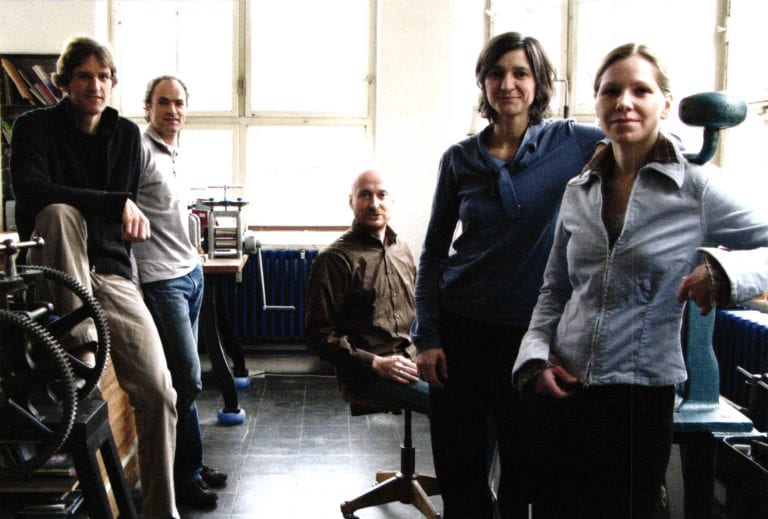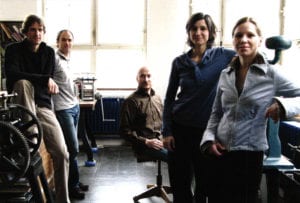 Patrick Malotki, Oliver Schmidt, Udo Jung, Dorothea Brill and Claudia Geiger (from left) from the "Schmuckgruppe JUNI"
Binding customers – acquiring customers
The JUNI members also believe that there are various advantages to be gained from the joint presentation of several collections at a mutual trade fair stand. For instance, customers visiting one design will also see the jewelry by the other designers. "We all present the entire JUNI range to our customers," says Udo Jung. And he insists that none of them are afraid that this will lead to losing customers to a colleague. Quite the contrary, most customers are pleased at being offered such a variety of design at one single visit and purchase from several members if they find what they like. The renowned gemstone cutter, Bernd Munsteiner, one of the founding members of the internationally acclaimed design group ASPECTS, also believes in the benefits of joint trade fair presentations. "A lot of trade fair organizers now prescribe the minimum size for stands. Without the joint infrastructure, for example dividing up the presentation areas or the joint press liaisons before the event, young designers in particular would frequently be unable to present their ideas to a wider audience." He knows this all too well from his experience with ASPECTS.
However, there is no question that in addition to the financial savings, personal development opportunities or joint marketing, group affiliation can also lead to difficulties. "Now and then, there will always be decisions on investments or company organization that will lead to controversy," says Udo Jung. "Five designers, five opinions: that's just the way it is. And if all decisions are made and supported together, there can be discussions or delays that would not occur if only one person was there to make the call." That being said, he summarizes that the additional work generated by group affiliation was restricted to the first two years. Since then, he strongly believes that it is right to stick to the group concept.