Greg Stopka of JewelSmiths in Pleasant Hill , California , has been in the jewelry business since he was eight years old. Through the years he has developed strong sales and presentation skills. But when he was introduced to CAD (computer-aided design) seven years ago, he found a tool that could communicate design possibilities so powerfully that he reinvented his business to take advantage of its sales potential.
"Sales are the lifeblood of a business," says Stopka. "My stores sell every day using the power of CAD rendered pictures. We sell $100, $500, $1,000, $2,500, $5,000, and $7,500 designs simply because a customer likes the picture."
Stopka calls the business strategy he developed around CAD "full concept jewelry services." He has no physical inventory, relying instead on virtual inventory. "I tell people I have more inventory than any jeweler on the face of the earth," he explains. "It's just that my inventory is in my mind, and it changes in a heartbeat. I always have what the customer wants."
Stopka uses two CAD programs, Digital Goldsmith Four, which is a 2-D program, and Matrix, which is a 3-D program, both by Gemvision of Davenport, Iowa. He usually starts designing in the 2-D program because it's easier and faster, but moves up to the 3-D program when a customer needs a fuller picture of the jewelry he's creating.The CAD programs allow Stopka to quickly illustrate multiple options for clients' jewelry. These visual images sometimes create desire for jewelry pieces the customers had no idea they wanted until seeing them on the screen. And even if the customers don't buy on the spot, Stopka says that 94 percent return later because they can't get the pictures he's created out of their minds.
The engine of Stopka's business is repair and redesign. His repair center brings in traffic, but he converts many of those repairs into redesign jobs. "Where I make most of my money-at least the highly profitable money-is from redesigns, not custom designs," says Stopka. "This selling is much more creative and one-on-one, servicing the client."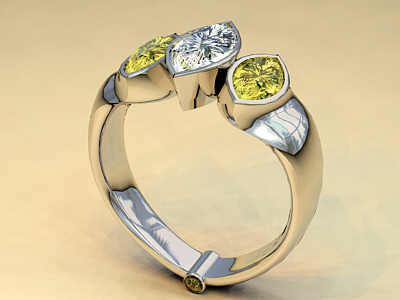 Photo is courtesy of Greg Stopka
Rewarding Redesigns
Stopka involves customers in the redesign process, showing them options and asking their opinions. His own passion and excitement is contagious, and soon the customer is as committed to creating the perfect design as he is. "Customers become mesmerized by the designing process," he says.
Using this highly personal approach, Stopka encounters little price resistance. "My approach is to set the selling stage with a fantastic presentation. My costs are only stated after the customer is emotionally tied to the 'wow' factor of the pretty pictures and the colorful dialogue."
Another advantage of CAD is that it allows Stopka to present each design to his client as a jewelry portrait seen from a variety of perspectives. He uses "virtual hands" to show how a ring will look on a finger, as well as top down views and three-quarter "glamour shots." He lights the jewelry dramatically so that it looks as if it is floating in space, or standing center stage. This attention to detail conveys to customers that the jewelry Stopka is designing for them is valuable, individual, and significant.
To keep "filling the funnel" with new design jobs, Stopka has trained his staff to go through a six-point checklist for each repair. The checklist identifies all possible opportunities to create an up-sale. These opportunities may be as simple as retipping and half shanks, or as complex as a total redesign. CAD is used to show the customer what the new or improved jewelry will look like.
"How you use this technology will determine your success," says Stopka. "You must develop a plan or procedure to utilize it in front of your customers every day, every week, every month, and every year."
After each sale, Stopka creates templates of his successful designs so that he and his staff can use them for future customers. This template design system allows Stopka to quickly create simple but elegant designs that sell well, are easy to manufacture, and are highly profitable.
He is also constantly "planting seeds." When the display screens in his design area aren't being used, they're showing PowerPoint presentations of past designs. He uses Matrix images in leather-bound portfolios, in-store signage, and newspaper and cable advertising. "All of it has encouraged customers to think about custom design," he says.
The decision to concentrate on after-market sales and service, married with Stopka's passion for designing and customer communication, has propelled his business to enviable profitability. "I do over a million and a half dollars in CAD sales per year out of my stores, and what closes those sales is how the creative design is presented," he says.
Stopka believes that the potential repair, enhancement, and design market is huge. "Look around at all the women between the ages of 25 and 75 years old that have either purchased, inherited, or been gifted some form of jewelry over their lifetime, [and] you will realize the enormous [potential] the American jewelry market has."
By harnessing the power of CAD to serve this niche market, Stopka has built a thriving business. He uses CAD images to make sales, invests in milling machines and other time-saving technology to advance his production capabilities, and hires experienced and talented goldsmiths to produce the jewelry he designs. Perhaps he says it best in his own words: "I am here to say that I am not a computer programmer, CAD engineer, graphic designer, [rapid prototyping] or milling specialist, or even a goldsmith. I am a business owner that has found a way to sell custom design and repair through these computer programs." It's hard to argue with success.