This article series from Metalsmith Magazine is named "Recent Sightings" and here Bruce Metcalf talks about art, craftmanship, design, the artists, and techniques. For this 1987 Spring issue, he talks about pluralism in metals and the metalsmith community.
~~~~~~~~~~~~~~~~~~~~~~
One of the essential conditions in present-day metalsmithing is pluralism – a diversity of beliefs and goals within a single community. The field is unified by a common identity, even though disagreements persist.
I can recall any number of arguments between jewelers who hold that the purpose of metalwork is to produce attractive commodities and teachers who maintain that the primary goal of the craft is esthetic expression. In spite of such disputes, the field is held together by our common use of material and technique, and our common history. Within the system of art schools and universities, however, one might imagine that there would be a strong consistency of opinion. The insulation afforded by the Ivory Tower should result in a certain sameness of view point, shouldn't it? But as strong within the academy as without.
In November of 1985, Christina DePaul proposed that the metals students from Carnegie-Mellon University, where she is teaching, Cleveland Institute of Art, under Kathy Buszkiewicz, and Kent State University, where I teach, meet for a day of exchange and discussion. The day's format would reveal either the uniformity or the disparity between the programs and the students. We would give the same assignment to all our advanced students, and then meet some months later for a group critique. Because the programs differ in emphasis, the assignment had to offer fertile possibilities for a wide range of sensibilities and backgrounds. We decided on "What is 'metals' in 1986?", a deceptively simple yet potentially enigmatic question that would provide opportunity for critical analysis of conventional wisdom. We hoped that each student's solution would take a clear stance or would offer commentary on the limits and possibilities inherent in jewelry and metalsmithing. We resolved to offer minimal guidance to our students, thus forcing them to draw their own conclusions.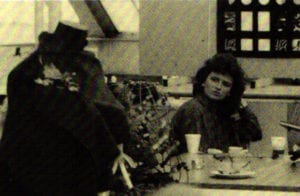 A brief description of each program is necessary here. The metals program at Carnegie-Mellon (usually taught by Carol Kumata, who was on leave last year) has recently been absorbed into the sculpture program, along with the ceramics and glass studios. Students are taught that media and process are put to the service of sculptural ends. The history of each craft and functional applications of craft (like jewelry and holloware) are downplayed, and technique is not emphasized. Instead, students are asked to become familiar with contemporary sculpture and use the scale and materials associated with metalsmithing in a manner appropriate to sculpture.
The Cleveland Institute of Art, on the other hand, carries the history of John Paul Miller, the granulation expert, and Frederick Miller, the silversmith. Holloware is taught as a separate discipline, and there has long been an emphasis on superb technique and good design. Also, since the institute is an art school, students are expected of concentrate on their studio disciplines to a degree that a university student cannot. On a spectrum described by the three programs, Cleveland would be the most traditional. Kent State is somewhere between Cleveland and CMU. As a teacher I present a fair amount of technical information, but I do not require students to refine their craft. Instead I insist that each student find a fitting combination of technique, esthetic intent and media. At present, the majority of my undergraduates are investigating jewelry, although some sculpture and holloware is produced.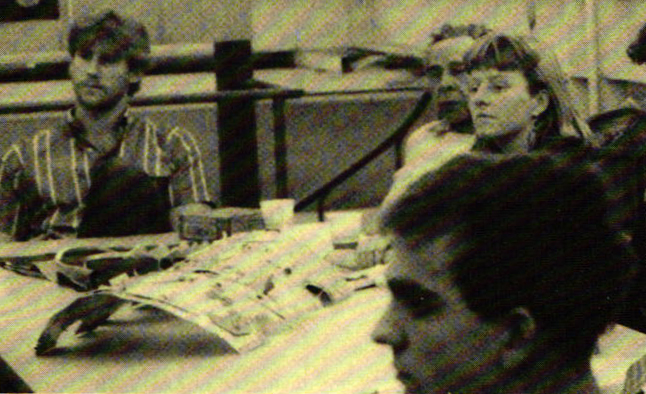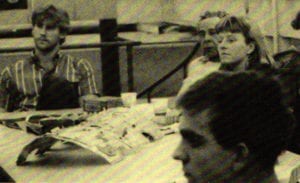 Thirty-seven students/convened at Kent with their completed works in February. CMU students all made sculptures, the largest being a circular rock wall on a wooden platform weighing several hundred pounds (Stephanie Ashton). There was also a series of minimal plywood cubes, (Kathy Moore), a chain welded around a rock (Kyler Black) and a series of small etched figures in a row, historical costumes with changing social mores (Rosa Silver). Kent State students submitted a range of works, from a gilded bowling ball on a wooden pylon (Holly Churchill) and a rattan and anodized-aluminum basket that fit over the head (Jill Forsman) to vessels made from heat-colored lathe turnings (Karen Turnidge). The Cleveland workds included nonfunctional holloware (Pam Argentieri), an elegant; but roughly executed neckpiece (Chris Jentner) and a box with an interior landscape reminiscent of Joseph Cornell (Paul Pavlifka). It was evident that students are shaped by the ideology of their programs.
The discussion was wide-ranging. The most controversial subject—and the clearest evidence that there is not a single viewpoint in the academy—was a proposition made by CMU student Jenny Commandaros. She declared that sculpture is inherently superior to metalsmithing, largely because there are fewer limitations imposed in a field that does not specify material or technique. Many students from KSU and CIA hotly debated this assertion. They maintained that any discipline, whether oriented toward concept or toward craft, is an adequate starting point for personal expression. That sculpture might offer more such starting points does not render it superior to metalsmith, these students argued. To some, the art/craft dichotomy indicates a deep divergence, while to others it is an illusion. The issue was discussed with great passion, but it was not resolved. Score one point for pluralism.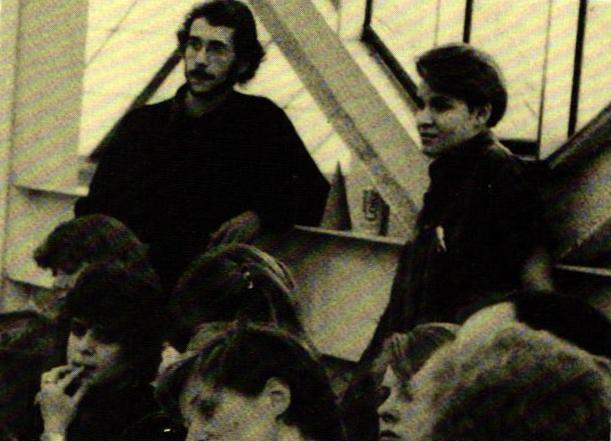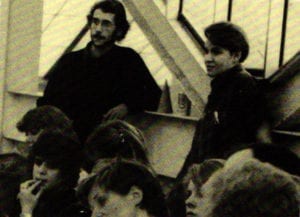 Other points that students made included:
Holloware has been utilized so much in the past that it no longer serves as a suitable vehicle for ideas. In a sense, some students felt that holloware is exhausted as an art form. In addition, it was noted that holloware techniques (raising, dapping and stretching) are too labor-intensive, especially when compared to newer technologies like electroforming. As one student phrased it, "It's the difference between walking and riding." (I personally disagree with this conlusion.)
Some students maintained that their schools discouraged fine craftsmanship. On the other hand, most students felt they had enough technical knowledge to serve their purposes. Some proposed that the craft of metalsmithing is a tool for self-expression, but must be regarded as a means toward an end and his little value in itself. The fact of being handmade was not regarded as a criterion for the status of art.
The experience of an art school or university education was regarded as an opportunity for experimentation and soul-searching. Emphasis was placed on personal and conceptual development rather than technical knowledge. Students also debated the line between self-indulgence and authentic art-making. There was no clear concensus on this issue.
Later in the afternoon, everybody made two "sketches" of cardboard, paper, string and wire. Students welcomed the informal activity of working quickly, while talking with people from other schools.
The outstanding feature of the day was communication. Students were exposed to educational philosophies different from that of their own program, and the experience was an eye-opener. We were not searching for conclusions, nor were we expecting to find agreement. While consensus emerged on some subjects, others seemed impossible to resolve. Personally, I was gratified to see that art schools do not turn on completely uniform products, and students aren't necessarily clones of their teachers. Each program has a different "flavor," and each student provides spice. Ultimately, the stew that is metalsmithing becomes more intriguing every year.
Bruce Metcalf teaches at Kent State and is a contributing editor to Metalsmith.