Accessories are the mark of style! In this statement, the fashion designer Christian Lacroix reminds us that lifestyle is the ability of making our time on earth beautiful and pleasant. This is particularly true of the little things needed in everyday life, if they are made of precious materials and are designed with great love of detail. Thimbles and tins, especially a snuff tin and their successors, the cigarette etuis, are good examples of this.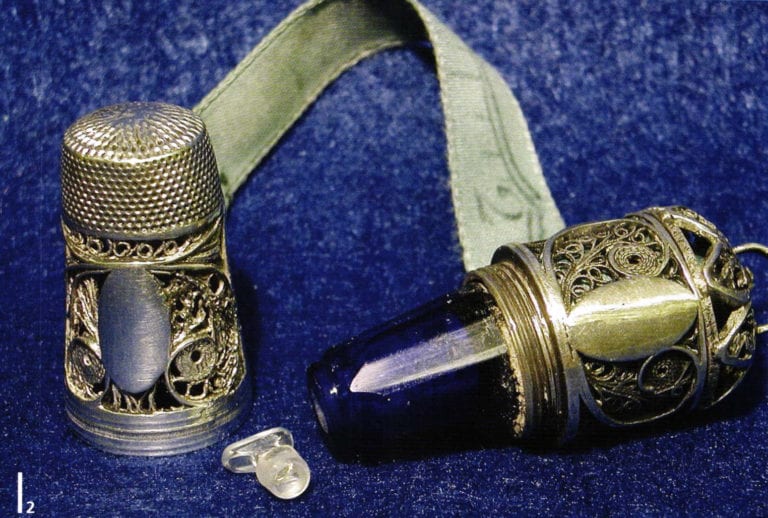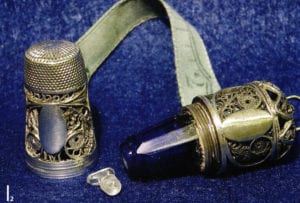 England, approx. 1880. Silver-filigree. At this time, bottles of smelling belonged to the sewing-kit since the elegant ladies became gladly powerless


From left to right: Gold with garnet – steel of Toledo with gold-ornaments about 1900 – silver with enamel – tortoiseshell-lacquer-art about 1900, these were ennobled in Japan – gold with 3-colored gold. Manufacturing company Gabler, biggest manufacturer of thimbles in Germany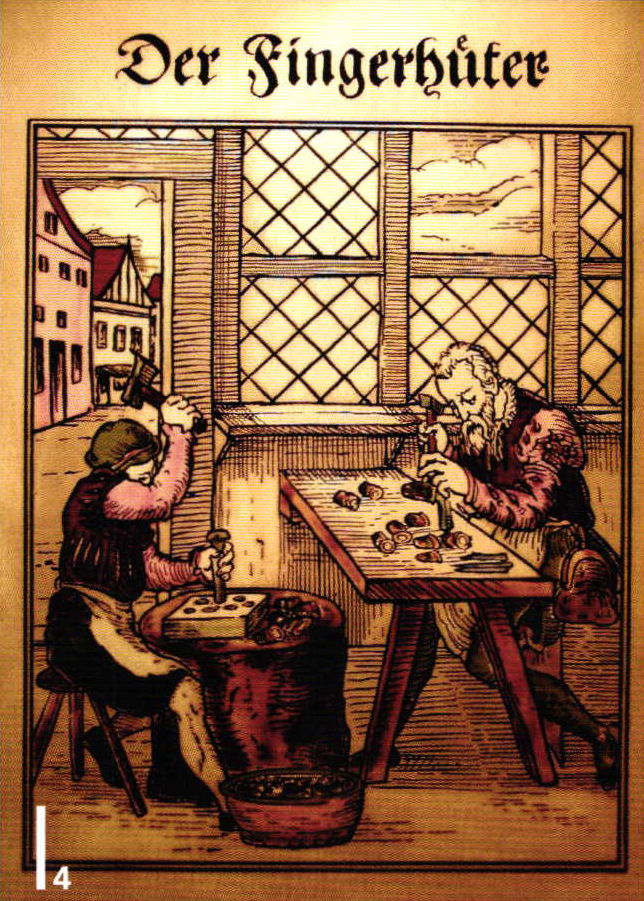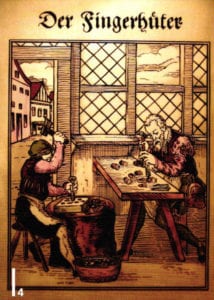 Window-picture "The finger-guardian". After the presentation from the book of craft of Jost Amman of 1568 to the saying of Hans Sachs: From brass, thimbles I make…
Despite having disappeared from the scene in this hurly burly age of now or never, it is plain to see just how much care and imagination was put into designing thimbles, a utensil for everyday use. This is why thimbles are now coveted collectors' items. They are available in silver, gold and encrusted with enamel and coral, adorned with pearls or turquoise or even with a dome made of agate, mountain crystal, moonstone or amethyst. If that were not enough, we even know of examples made of porcelain – Meißen also produced them -, ivory, horn, tortoise shell, bone, leather or wood.
For as long as we have sewn or darned by hand, we have always protected the sensitive balls of our fingers. It started in the Early Stone Age. 30,000 years ago, hunters used long bones to sew pearls made of mammoth ivory to leather. A thimble with an open dome, in the same style that tailors still use them, was found in Herculaneum. The Romans took bronze thimbles across the Alps and into the North. However, in view of the high copper content, this protection stained the hand and also material. According to Thorvald Greif, founder of the world's only thimble museum in Creglingen, crafty coppersmiths in Cologne came on in leaps and bounds in the 15th century. The thimble makers added a certain type of soil to the liquid copper, thus inadvertently inventing brass. The city did not pay them any thanks and instead banished the "yellow smiths' due to the air pollution caused by this method.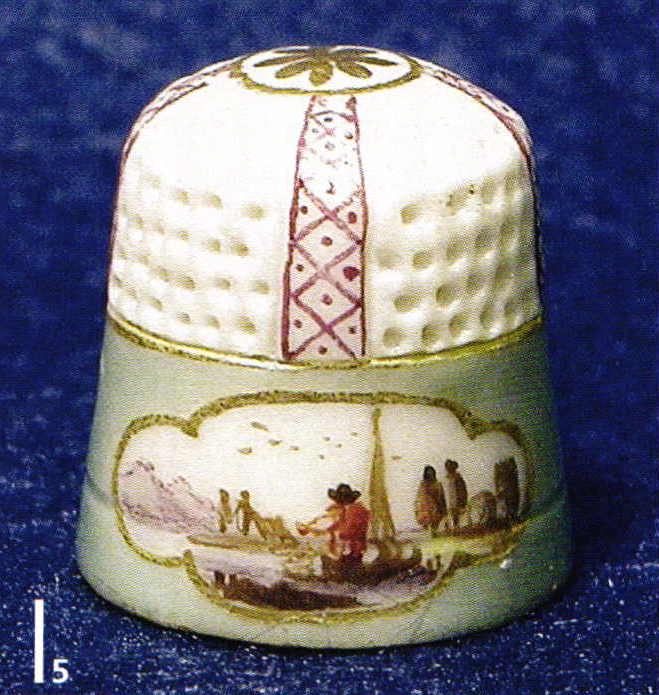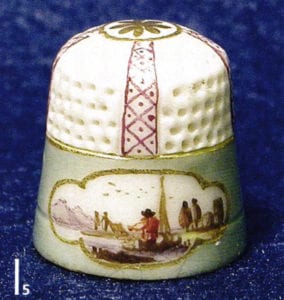 Hand-painted porcelain-thimble by Meißen, 1740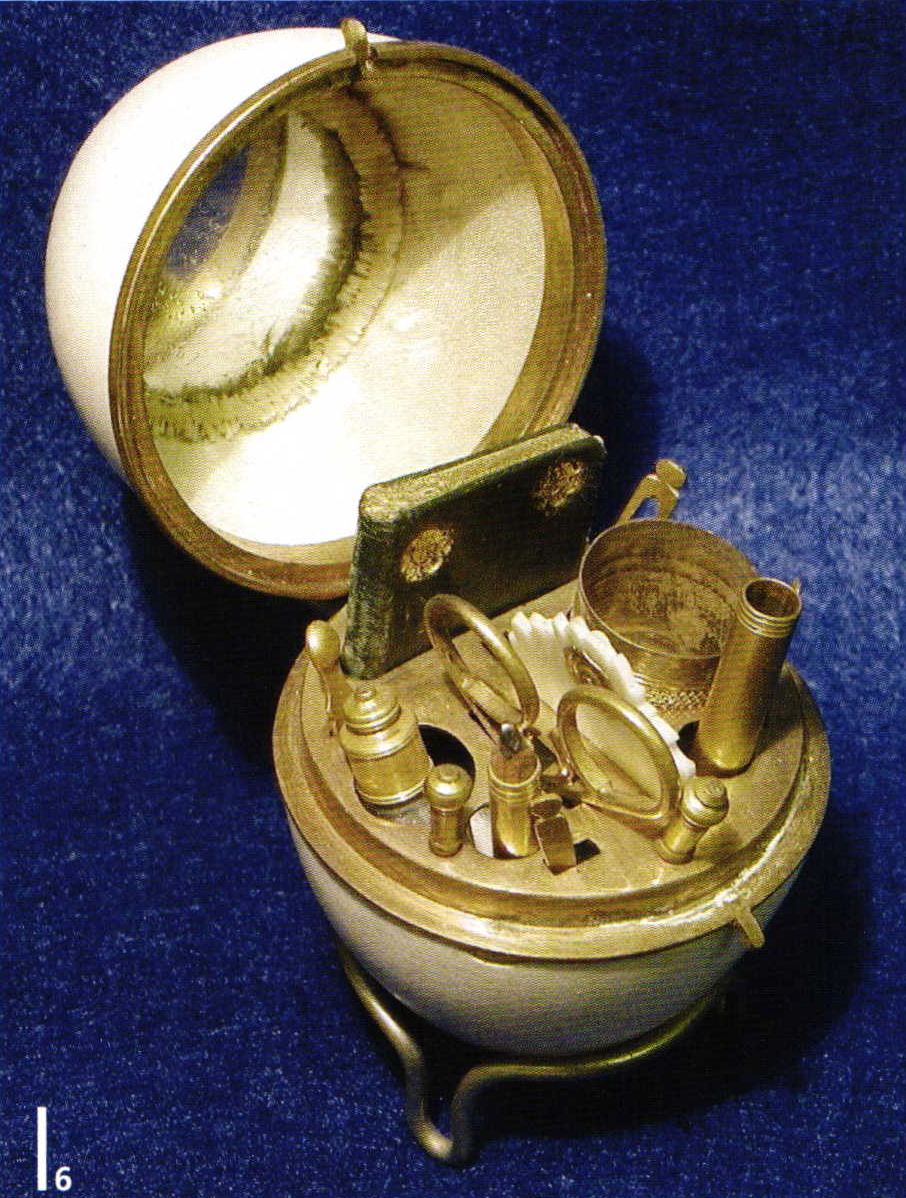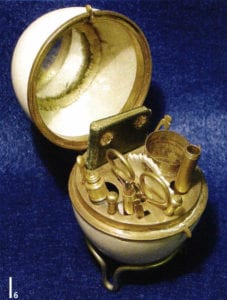 This sewing-kit is accommodated in an egg of a duck and comprises: Thimble, scissors, bottle for smelling, book with pen, needle-can, needle, little tiles for yarn. England, approx. 1850
Their fellow tradesmen in Nuremberg were significantly craftier. None other than the famous Paracelsus, who lived for a while with the "thimblers", found out that zinc was what created brass. This paved the way for the production of pure brass. Soon, the whole world was clamoring for thimbles produced in Nuremberg, so, in order to preserve the monopoly, the city banned the thimble makers – now a profession with apprentices, journeymen and masters – from leaving the town. In addition to pretty decorations, the Nuremberg craftsmen also adorned the thimbles with comforting sayings for the seamstresses such as "No thief can steal your love and luck."
Everything went smoothly for 200 years. But then, the spies and headhunters of Maria Theresia succeeded in spiriting away the secret of brass to Vienna. But it is a myth that the Dutch goldsmith Niclas van Benschoten invented the golden thimble. French goldsmiths had been producing golden thimbles adorned with coats of arms for their aristocratic clientele for a long time beforehand. In 1583, a thimble with gemstones and a small leather holder to tuck it away in once work was complete was produced for the Queen of Navarra. In the 19th century, you found this kind of storage facility in the form of eggs, egg breakers, glass shoes or boxes made of silver, tortoise shell or bottles made of wood. The form was particularly popular, as it can help when darning. At the start of the 19th century, the silversmith Friedrich-Georg Gabler from Schorndorf managed the breakthrough in industrial thimble production. He experimented with the method for six years until he succeeded. Together with his brother; he transformed Schorndorf into the world's largest and most important center of thimble production. They produced over 4,000 different thimbles in 18 sizes. Seven to eight million units were constantly in stock. Each month alone, an entire railway carriage full of thimbles set off towards Russia.
th
century, the silversmith Friedrich-Georg Gabler from Schorndorf managed the breakthrough in industrial thimble production. He experimented with the method for six years until he succeeded. Together with his brother; he transformed Schorndorf into the world's largest and most important center of thimble production. They produced over 4,000 different thimbles in 18 sizes. Seven to eight million units were constantly in stock. Each month alone, an entire railway carriage full of thimbles set off towards Russia.
There is a long tradition of collecting historical thimbles in England and France. It is less popular in Germany. There are several options as to how to build up a collection. It can follow motifs, materials or even countries.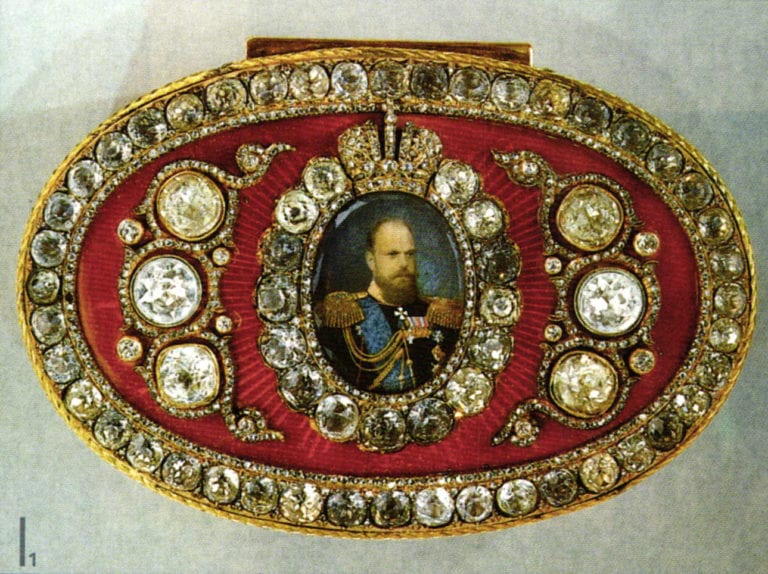 Showpiece of Bismarck, Chancellor of the Reich. Gold, red enamel, yellow gold, brilliant-imitation, crown with diamonds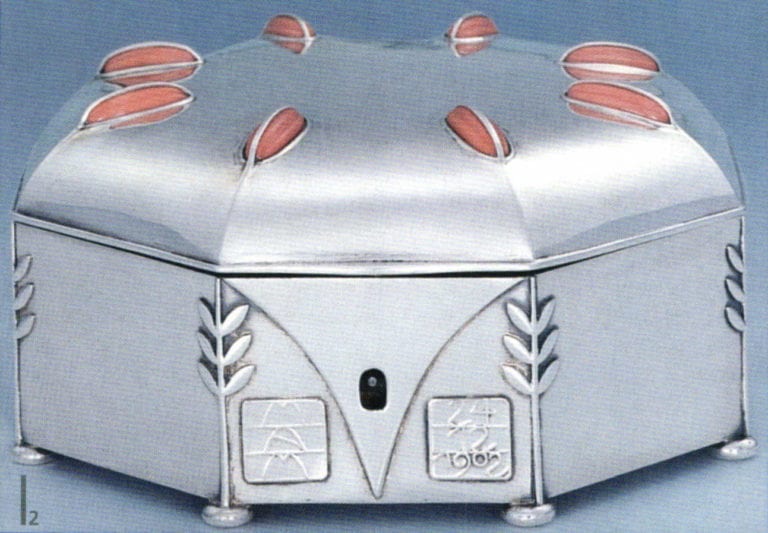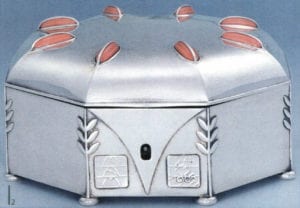 Silver box, presented by Gustav Mahler to Alma Mahler on christmas 1902. Design by Koloman Moser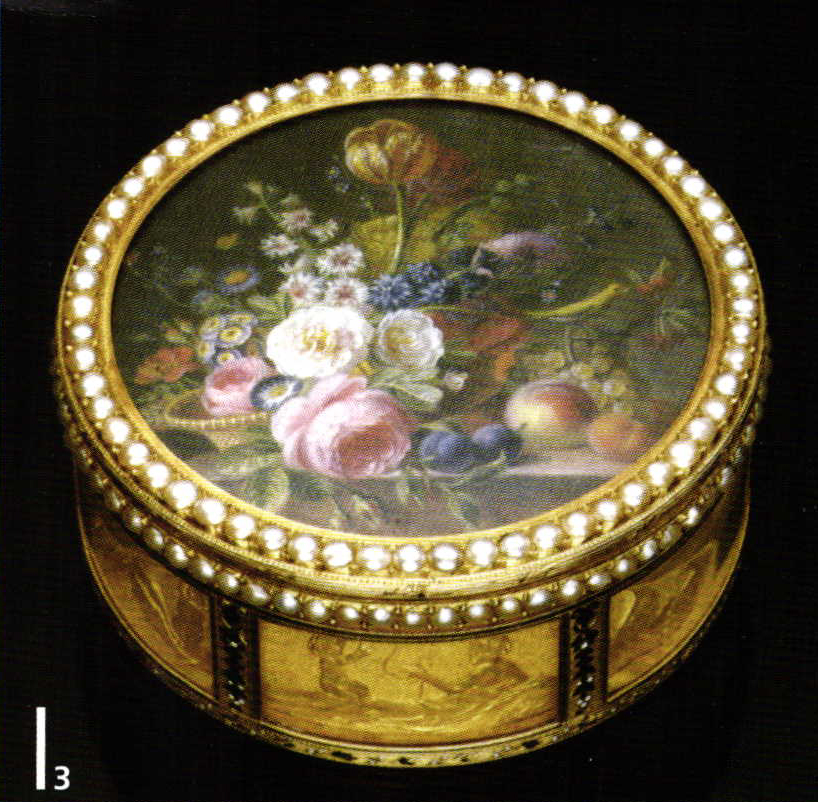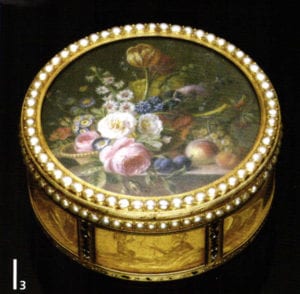 A French gold royal presentation ,,boite à miniature", Paris, 1789. Presented by Marie Antoinette, Queen of France, to Madame Campan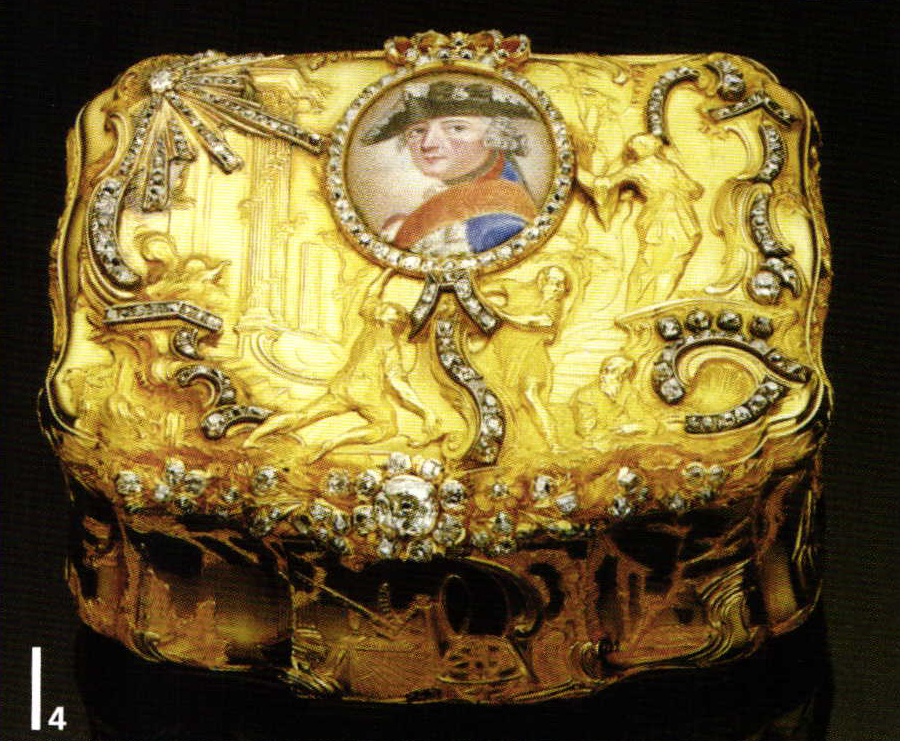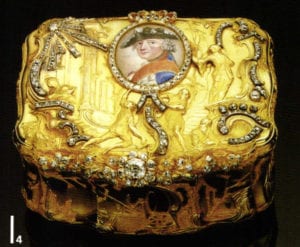 A jeweled gold presentation snuff box of Frederick the Great, inscribed 1762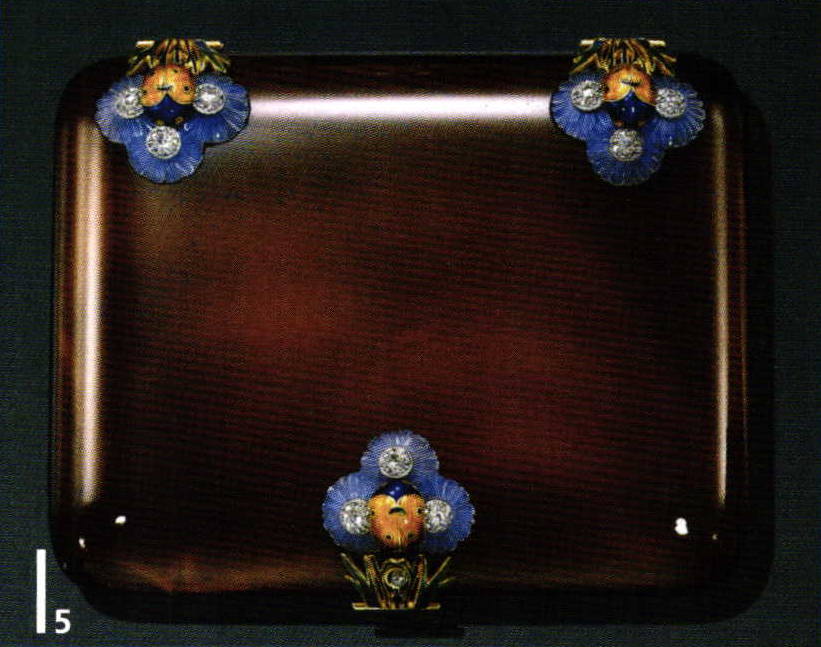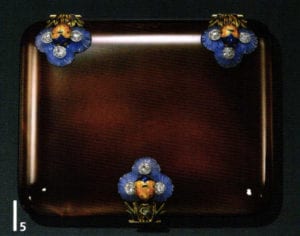 An Art Deco agate, enamel and diamond cigarette case, by Boucheron, approx. 1920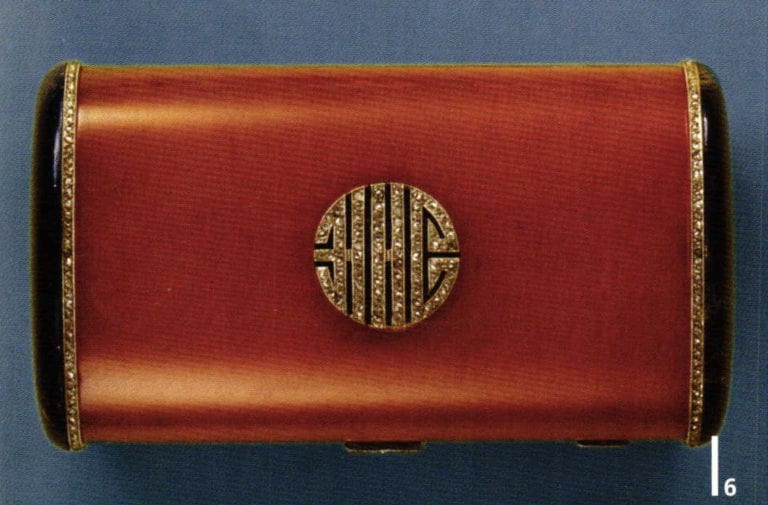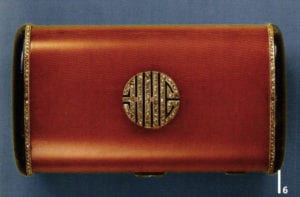 Art Deco amber, lapis lazuli and diamond cigarette case, signed by Lacloche
But what women appreciated in a well designed thimble was equal to what men liked about richly decorated snuff tins or later the cigarette etuis. In 1858, when Count Helmuth Moltke visited six persons of high public renown in London on behalf of Prince Friedrich Wilhelm and gave them lavishly expensive, brilliant tins as an award, this must have been the last time in European history that small jewelry tins lent expression to national gratitude. After all, medals had been invented, and they did not require selected artists for production and they cost significantly less. The tin had not become a status symbol, prestigious and a collector's item until the end of the 17th century. The habit of snorting snuff had just begun and every aristocrat worth his salt commissioned the production of an artistic tin, a tabatière, in which the snuff was stored. Paris was the driving force at the time, although Ludwig IV was a vociferous opponent of snuff and nobody at court dared to use the tabatière under the eyes of the ruler. This is obviously one of the reasons why the gold cans were artistically painted with miniatures of the monarch or with respected ladies as camouflage.
An ordinance in 1700 required a change in materials. At the time in France, no object was allowed to contain more than an ounce of gold. This is why the period featured thimbles made of semi-precious stones, tortoise shell, ivory or fine lacquer. But whatever they loved in Paris was deemed too cheap in Dresden. The art lover August the Strong commissioned his best goldsmiths, stone and ivory cutters in order to create these tiny jewels. It was in fashion at the time to wear the tins visibly on chains to show off one's wares. The era of Rococo was perfect for the development of the magnificent tins. Anyone who thought anything of themselves could not be seen without one of these tins. At times, their production value was astronomical and caused many aristocrats to become avid collectors. Amassing 1,500 valuable pieces, Frederick the Great most probably owned the largest collection at the time. This is astonishing, as the monarch was otherwise seen to be thrifty and even mean.
The Berlin products from the last third of the 18th century were characterized by valuable stone adornment and artistic miniatures, especially by Neuber. England was also in the grip of a tin fad at the time. And the bourgeois classes wanted whatever the aristocrats had. This led to a tin fashion made of silver with tortoise shell or lacquered lid; the most famous of them were made by the Brothers Martin in France and Johann Heinrich Strobwasser in Germany.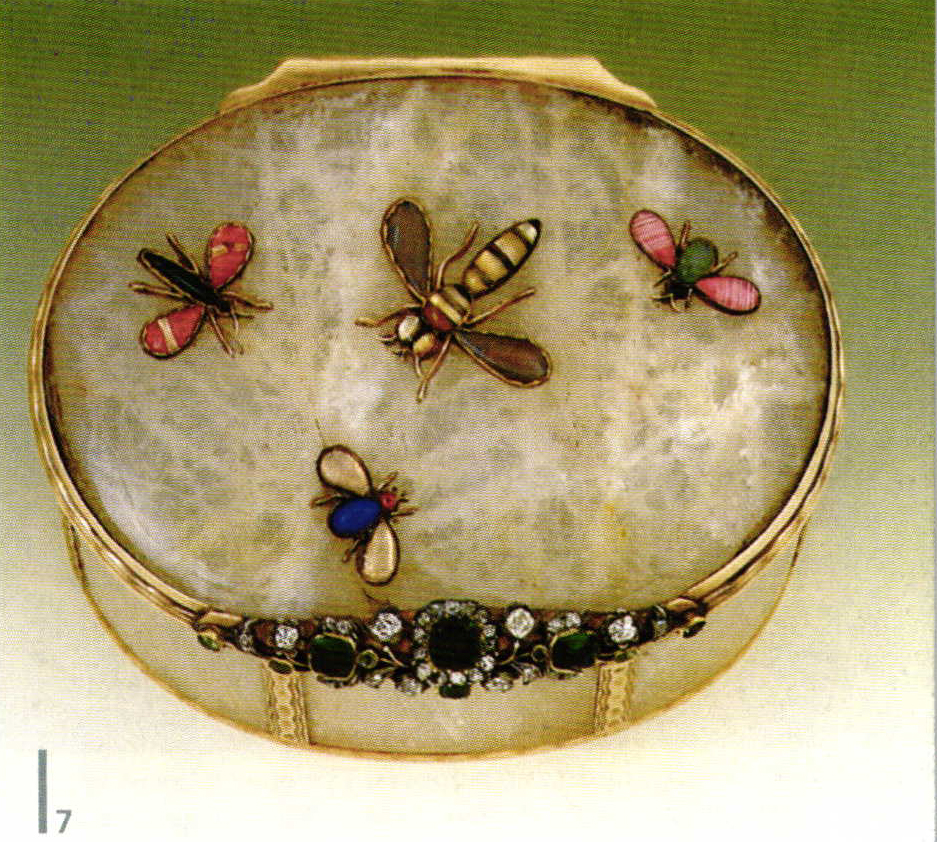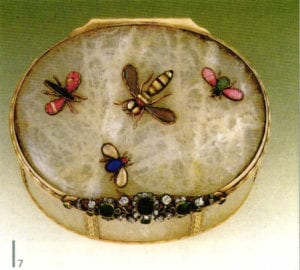 A Dresden gold and hardstone snuff box with jewelry thumb-piece, in the manner of F.K. Hoffmann, approx. 1770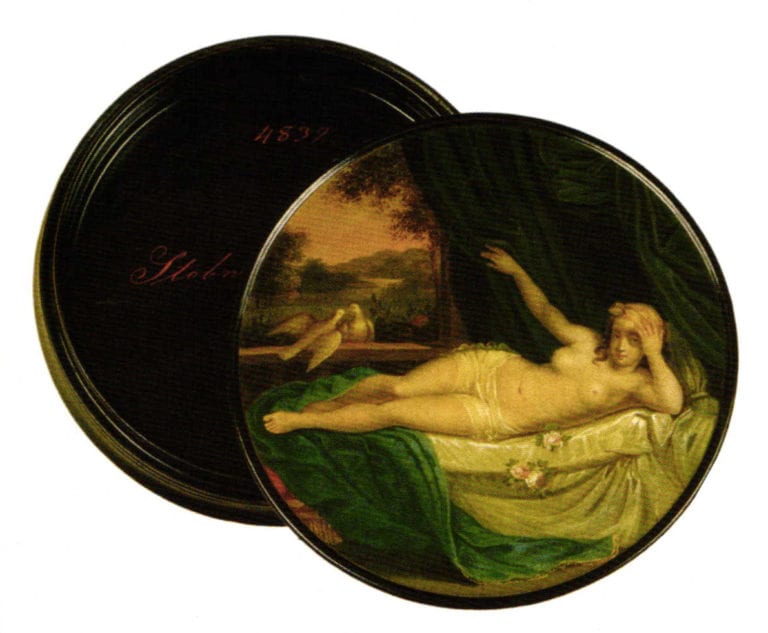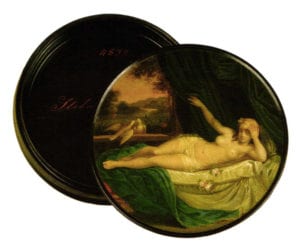 Case by Johann Heinrich Stobwasser. Papier mache, lacquer painting, approx. 1771
Once the aristocrats had laid aside their extravagant tins, the wider population also lost interest. Gold or gold-plated pocket watches replaced them as a symbol of economic prosperity. Cigars and cigarettes had transcended snuff in terms of popularity. But it was inconceivable in the first 30 years of last century for a man or a woman of social status to pull a pack of cigarettes out of their pockets or even to offer anyone else a cigarette. Instead, more or less elaborately designed cigarette etuis were kept in the breast pocket. Art Nouveau and Art Deco were the source of inspiration for most artistic pieces. But they did not only use precious metals and gemstones, but also a combination of lacquer and eggshells, as we see in the creations by Jean Duanand Work from the twenties with their cubes, surfaces and colors made the etuis so modern and exciting. The lacquer was smooth, transparent and clear in its coloring. The eggshells on the light surfaces created a strong, cracked pattern. The enamel painted etuis were a strange and special development. They were created around 1910 in Germany, sometimes in Pforzheim, or by Karl Lustig from Vienna. They portray scantily clad, semi-naked or naked women in delicate situations, undressing or as slaves at the market or being examined while "playing doctor." Although nowadays this would barely raise an eyebrow, at the time it was so scandalous that many of the etuis had a double lid to lend them an air of honorability.
Until the present day, tins for various uses have inspired modern artists time and again. This is a sign that it is not simply a question of nostalgia, but instead that the artistic value of these small and useful objects remains warmly appreciated.