What would be your reaction to an invitation to come and teach an enamel workshop in the middle of February "outside in a garden"? I was standing, at the time, in my house near Boston, Massachusetts, looking out to a cold night of snow and ice and howling winds and here is this invitation to come and enamel OUTSIDE!
Well, of course the workshop was not going to be held in icy Boston, Massachusetts; it was going to happen in sunny, blue skies, warm and colorful Mexico City, but even so it was pretty amazing.
Needless to say, I accepted the invitation. And not just because of the climate. I love teaching and talking about enameling. I met the enamelists from Mexico City at the Enamelist Society Conferences and I knew it was going to be lovely to meet them again and to work with them and their friends.
After countless e-mails about airline tickets, materials lists, endless writing of lessons plans, making dozens of small enamel artworks as samples, and tons of packing, I took the airplane to Mexico City and at last I was on my way.
Bertha and Jamie, with whom I was going to stay, came to meet me at the airport, and from that moment on, it was like stepping into a dream. They live in an apartment on the second floor but you have to take the elevator down six floors to get there, as the apartment is on the shoulder of a narrow valley. Their apartment is spacious and beautiful; all decorated with silver and enamel art of Bertha's, and full of wonderful paintings that they collect, and lovely smells of food, herbs and cleanliness.
My suitcases were rolled into my room, and after a tour of the house and looking with astonished and wondering eyes around me, Jamie and Bertha took me on a grand tour around Mexico City. I was enchanted with the broad boulevards, old fashioned houses, glorious cathedrals and palaces, and touched by the love and pride that my hosts take in their hometown. Beside the beauty, there are also very sad and poor sections in the city, and also places where the devastation of the last terrible earthquake is still evident.
The next morning, Bertha and I took the short drive to the workshop through sunny streets and gardens bright with red and violet bougainvillaea flowers. I had 16 students in my class, all of them artists that have been working in enamel and silver for many years. Maria Elisa is a teacher of repoussé, and her work, as well as Christina's and Bertha's, are something that until then I saw only in museums. They love enameling, are eager to learn, absorb quickly what they are taught and know how to incorporate new knowledge with what is already their own.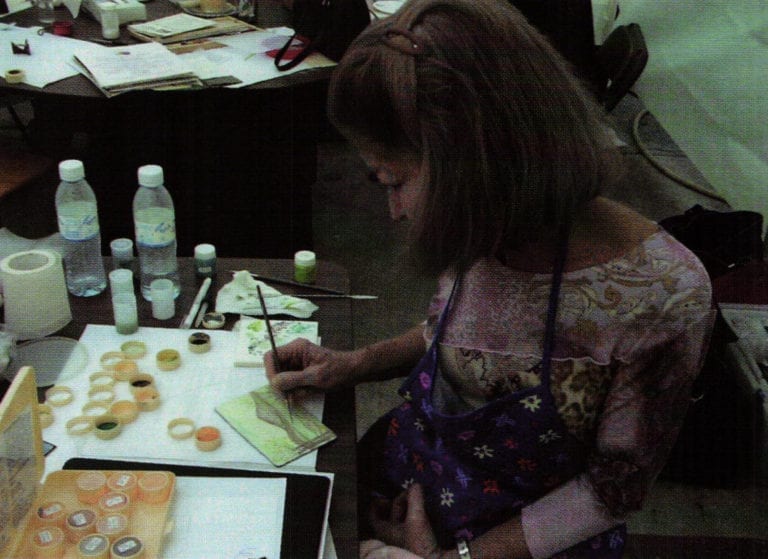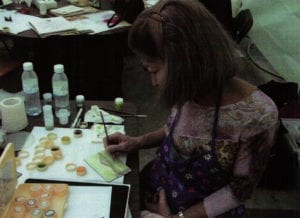 Even though 16 students are a lot of people to be working with two kilns in a small studio, these ladies made it easy by the way they shared and helped each other. They made a waiting list and were then called by name to come and fire their enamels. This way nobody had to wait too long. They helped each other with materials and advice and translated the lessons that I gave into Spanish, to whoever needed it. We set stations of popular enamels like 1010 White and 2020 clear, so each participant could just come and sift the enamel and let the next person use it with no loss of time.
There was only one sink, so another one was improvised with a table as a stand and on it a bucket and a huge pan with water. This was placed outside in the tent. Yes, a tent; I have not yet told about enameling outside and in a tent.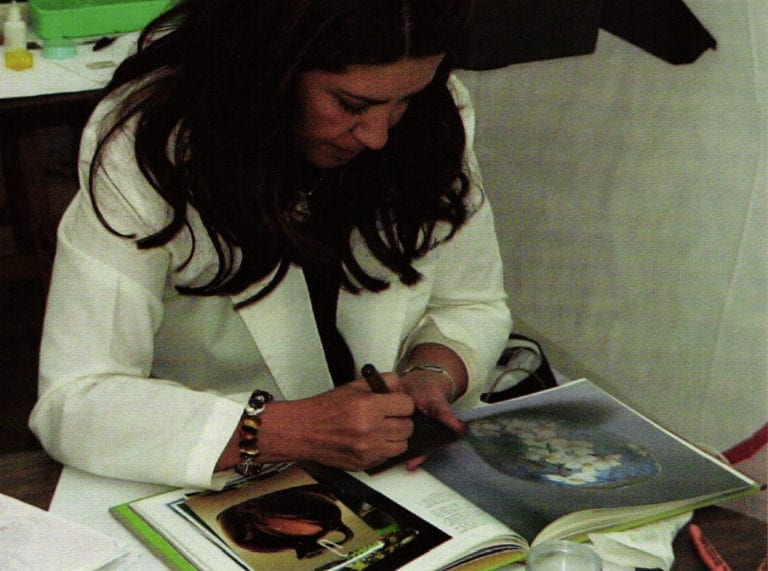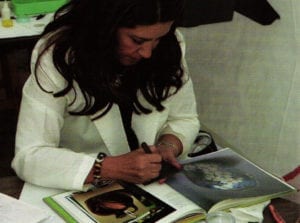 As some of the enamelists in this particular group do not have a studio, they come and work in the studios of either Lizette or Norma. This workshop was held in Norma's studio. Norma shares her studio and knowledge with a few of her enamelist friends each Wednesday. The studio is in the first floor of her house but you have to go downstairs to reach it as Norma's house is also built on the shoulder of a mountain. It is full of light and has a huge door opening into a lovely garden. It is very well equipped, but as 16 students is quite a large number, they had rented a tent for the workshop and placed it in the garden with tables and chairs and many of the students worked outside. I could not get over this sitting outside and working with enamel. It was just like a dream. In Boston, if it is not freezing with snow and ice, it is hot and muggy and full of mosquitoes. If it is not too hot or too cold to be outside, it is too windy. When Bertha had first told me that some of them are going to work outside in a tent, I thought it was the strangest idea I have ever heard. But it was lovely. We worked in the tent with a gentle wind softly blowing leaves on the top of the tent, the birds singing and fluttering around and every now and then I could even hear a few drops of delicate rain falling. Each day we had lunch in the garden, and we worked in the inside and outside studios from ten in the morning until eight in the evening.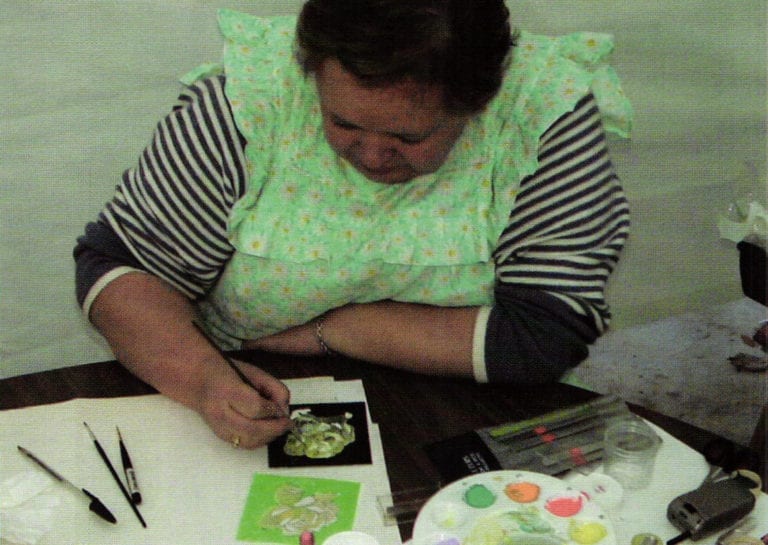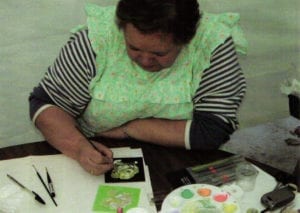 Every day I sat amongst my friends and shared with them what I learned and what I have found out about enameling while working in my studio. We talked about different ways of drawing with somewhat unusual materials, and also how to create exciting surfaces to draw and paint on. It was wonderful to share my knowledge with these eager ladies, as so many of them love drawing and do it so well.
And so, during the week of the workshop, we drew and painted with pigments and enamel watercolors; sketched with metal points of brass, copper and silver on etched enamel; combined liquid crackle enamel with enamel watercolors; drew lines with special pens that made the enamel powder adhere in desired areas; painted directly on bare copper; shaped fine silver round wires and used them as delicate lines inside the enamel; created new and wonderful surfaces to paint and draw on with the help of an etching cream.
We also sifted and underfired very fine enamel mesh, so that we either had an iridescent mat finish final coat or a surprising surface to draw upon; we noticed how the various colors of enamel react differently to the same techniques; used the translucent characteristic of some enamels to achieve an appearance of fog or curtain-like effect on the work, and layered techniques on top of each other to achieve depth and beauty.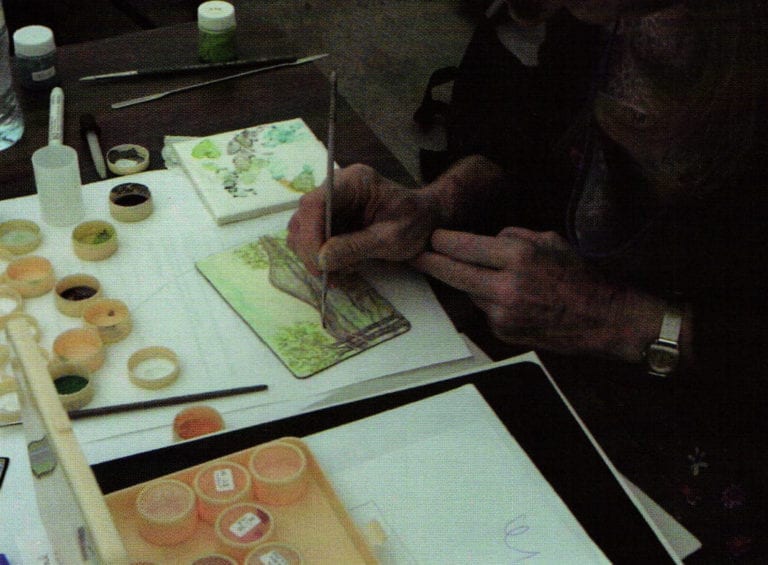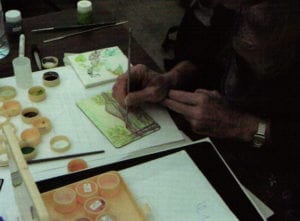 And we were surrounded by beauty. All around us the valley and the majestic line of the mountains kept guard during the day and at night the lights of the huge sprawling city and the stars rivaled each other for brilliance. Trees, flowers, birds and insects kept humming all around, and all these colorful images found their way into the busy studios.
I loved to see the passion that these artists have for enameling. They were reluctant to miss an hour from the workshop and if they had to, made me promise not to teach anything new in their absence. From the youngest to the oldest, they came prepared with ideas and photographs or drawings to work from. Each of them expressed her personality in the way she handled the materials, in her choice of design, subject, composition and colors. Naturally the houses of the streets of Mexico City appear in the artwork, as well as the mountains, the unique dresses and the characteristic colors of the place.
On a side table we placed the small enameled samples of designs, techniques, ideas and jewelry that I had brought. The enamelists loved these and would come to me with one or another object to inquire how a particular result that captivated them was achieved.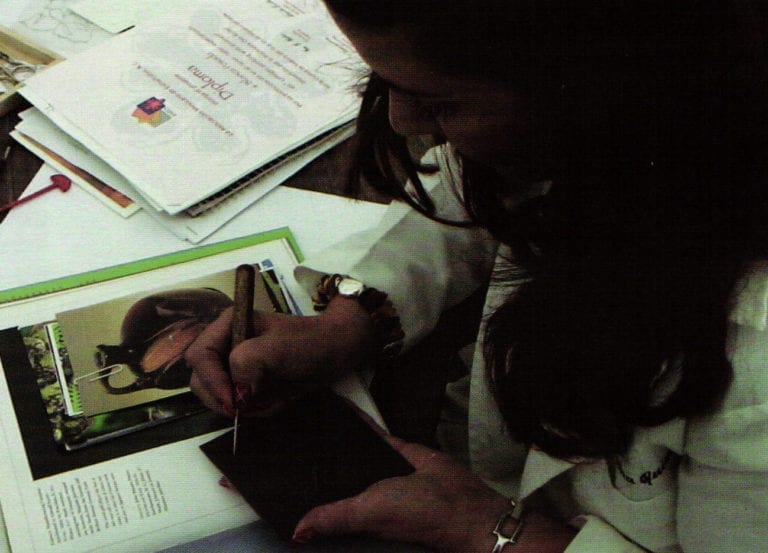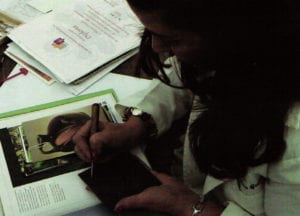 I also brought a video tape of my artwork as it was too complicated to carry my wall pieces to Mexico City. We watched it one morning and it was rewarding to see how my work and my stories touched their hearts.
At the end of each working day we went to restaurants where the food was great and the interior decoration and music delightful. Some of my students like Christina, Malka and Miriam and Mario took me to see their homes and their beautiful artwork. Coming home late at night, I would still find Bertha sitting in her kitchen, working keenly on her drawing.
My husband joined me at the last day of the workshop just in time to take photographs of the participants and some of their works. We could not get over how we were both received and how much love and kindness our friends showered upon us. In Bertha and Jamie's house we were treated as family; I will not talk about the meals that Bertha prepared, as I do not want you to envy us too much. Miriam and Mario took us to a bazaar on a sunny Saturday morning. It was like going to an exhibition of arts and crafts from all over Mexico. Every district has its own artistic tradition in ceramics, basketry, beads and fabric. The wealth of colors, shapes and designs was overwhelming.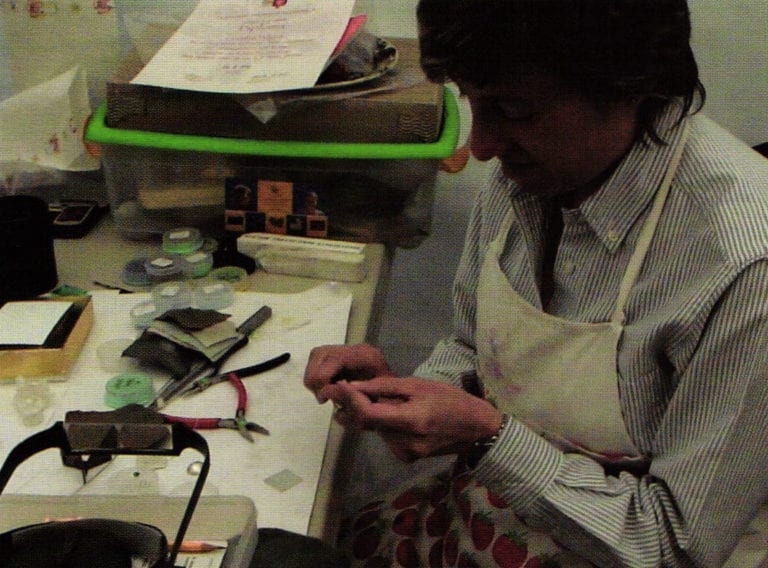 On a Sunday after the workshop, Inez and Carlos took us around downtown Mexico City. We walked, thrilled, above and around the awesome Aztec temples that are situated right in the heart of the city. We saw the murals painted by Diego Rivera, where the whole history of Mexico is depicted. Carlos' told us about the last earthquake, and how the people came together and with their hands picked up stone by stone and the bodies of the dead so that the city would be livable again.
I know that at some point in time, memories of mountains peaked with snow, fields of dust and yellow grass and wide magnificent boulevards will come together and a drawing will appear first at the tip of my pencil and then take shape and colors in enamels. I hope I will be able to put into it the magic that Mexico City holds within its vast borders and the kindness and love that lives in the souls of its people.