When a woman walks into your store with an 18k ring she just inherited from her grandmother and asks you to please make it fit on her finger, you want nothing but to help her out. You inspect the ring and find that six of the 12 prongs need to be retipped. As you jot down notes and punch away at your calculator, the client seems to be getting nervous. You look up from your calculations and tell her the grand total of the repairs will be $275, and before you know it she-and the potential job-are out the door.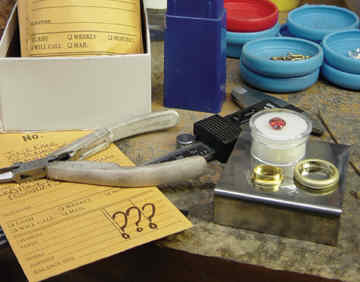 What did you do wrong? Was the price too high? Could you have better explained the necessary repairs?
If you ever find yourself asking these questions, the repair pricing strategies used by the three jewelers profiled below might help. Just remember, when it comes to pricing repair work, there is no one-size-fits-all strategy, but there are methods you can use to remain competitive-and profitable.
Jeff Johnson
The Johnson Family's Diamond Cellar
Columbus, Ohio
"Jewelers are good at giving things away," says Jeff Johnson of The Johnson Family's Diamond Cellar in Columbus, Ohio. "I've seen jewelers emery a platinum ring and polish it while the customer waits-free of charge. That's 15 minutes of labor given away that could've been spent making money on other jewelry."
Johnson looks at pricing repairs from the standpoint of a business owner whose employees' time is money. "If you pay your bench jeweler $20 an hour, you just gave away $5," he says of the above scenario. "The customer should have paid for that time-and if you instill in them the respect for the craft of jewelry making that it deserves, they will pay for that time."
Jewelers need to look at repairs through their customers' eyes to better sell them, says Johnson. "If we tell the customer that we charge X amount to size a half shank because we pay our goldsmiths more than most people do, they aren't going to be interested in that explanation. But if we romance it a bit, explaining how we dovetail all upsizings and shanks, affording the strongest possible seam, and how we use new gold from the refinery instead of scrap, the customer takes interest in the process."
Johnson will take out a piece of paper and draw a diagram of dovetail sizing for his customers. He'll show them the gold stock that will be used in the resizing. He'll even take them into the shop to see the jewelers working at their benches. "We take for granted what we do, but it's all very mysterious to the customer," he says. "Showing them the bench and explaining the craftsmanship wins them over."
Of course, all of these little extras require a little extra work from the retailer. For one thing, you have to keep your shop presentable in the event that the customer wants to see the bench. Also, you need to spend time educating and training your salespeople to accurately describe all of the repairs you offer. They need to be the eyes and ears for the jeweler in the back, while at the same time making the sale.
Nowhere is this more critical than when taking in a repair, says Johnson. "Your salespeople need to look out for booby traps," he says. "If the previous jeweler has laid a mine field ahead of you by using extra easy solder when he should have used hard solder, it's best to know that in the beginning. For example, if you can see that the head was rebuilt with easy solder, which is easily identified through a microscope (a poor color match and pits near or on the prongs are good indicators), you should suggest replacing the head. If you go to rebuild it, as soon as you put a torch to it all the prongs will disappear. And since you already quoted the job, you can't go back on your word."
According to Johnson, your word, and the trust it instills in the customer, is what seals the deal. In addition to promising the customer quality craftsmanship, Johnson guarantees a dovetail sizing for the life of the ring. These types of guarantees help to justify the prices Johnson charges for his repairs.
"We've done some market sampling by calling competitors in our area to ask what they're charging to do basic things, such as sizing rings, soldering chains, etc.," says Johnson. "And although we're above market on certain things, we give our customers reasons why. Our time is valuable, and we do our best to educate customers about the price of value."
Sara Grinnell
Studio C Designs
St. Louis Park, Minnesota
Sara Grinnell and business partner Lorraine Lowe opened up their retail store, Studio C Designs in St. Louis Park, Minnesota, on April 15, 2003. Previously doing custom work on a contract basis, the two wanted to expand their reach through a high-end storefront operation. And along with increased custom orders comes increased repair work.
Creating an accurate, competitive price list for the store required a good deal of research. "We started with David Geller's book on pricing repairs and found his charges reasonable," says Grinnell. "Even those that seemed high were justified. For example, he explained why you get so much for retipping one prong and every one thereafter is less because the main cost you incur is setup."
In addition to using the book, Grinnell discussed pricing with friends in the industry and retail stores in the neighborhood. She found that many jewelers were pricing lower than she was, but felt justified in what she was asking for repair work.
"We feel that doing all custom, high-end work in our store, Geller's prices are competitive," says Grinnell. "Because of the quality of the work we do, as well as our qualifications, we feel our prices are fair."
Grinnell, a certified Jewelers of America bench jeweler, and Lowe, a certified GIA gemologist, feel that their credentials instill confidence in the customer, further validating their prices. Not that anyone's complained about them yet.
"None of our customers have said our repair prices are too high," says Grinnell. "Our very first repair request in the store was from a customer who needed a new crown for a 0.5 carat marquise diamond. She wanted a platinum head. When we quoted her the price, $169, she said 'fantastic, let's do it.' And we haven't had a complaint since."
Being located just outside of downtown Minneapolis, Grinnell says the local clientele can afford the prices she charges, which are mainly drawn from Geller's book. The only prices that she has modified are those for repairs involving technology.
"We utilize CAD/CAM in our store, so some repairs may entail us modifying a file that we've built in the past," says Grinnell. "We don't have to carve a new wax model, so the price may be discounted a bit."
For example, one client brought in a worn out ring with diamonds that he wanted taken out and set into a new ring. He liked a ring in the case, which was designed in CAD, so Grinnell simply modified the channel width in the existing CAD file to fit the diamonds. "We didn't have to take the time to make an entirely new design in CAD, and we didn't have to charge him a custom fee for a rather unique repair job," she says.
Grinnell has likewise saved herself time-and saved her customers money-by owning her own laser welder. "We can do so many things efficiently with the laser welder-repair earring posts, bezel set fragile gemstones in gold," explains Grinnell. "Since we don't have to send out the pieces, we can charge a bit less for laser work than a store that has to contract it out and incur shipping costs and someone else's labor costs."
Grinnell has found it useful to base her laser repair prices on what her fellow store owners charge to let other jewelers use their lasers: $1 per minute. "For example, if we get in an earring post repair that we'd charge $15 to solder, and it takes us three minutes with the laser, we'll tack on $3 to the price and charge $18 for the repair," she says.
But even with the newest technology at her fingertips, Grinnell still finds pricing certain repairs difficult. "Some of the hardest repairs to price involve replacing colored stones," she says. "Prices are all over the board, based on availability and demand. You have to stay reasonable so people don't feel like you are devaluing their ring or inflating the price of the gem."
To make this pricing challenge easier, Grinnell references her supplier's gemstone pricing list, marks up to retail, and discounts 20 percent.
The best part about using reference guides is the ability to justify prices to the customer. "When we are pricing a repair, we reference Geller's book in front of the customer," she says. "The customers feel it's professional, a trade standard, not just a number we're picking out of the air."
In fact, Grinnell wishes more jewelers would adopt Geller's repair pricing strategies in their stores. "If more jewelers used the book…we wouldn't be undercutting or discounting each other. We'd have a standard trade price."
And at that point, the customers are left to base their decisions not on the price of the work, but on the quality of craftsmanship.
Jon Barry Dinola
Yardley Jewelers
Yardley, Pennsylvania
When Jon Barry Dinola of Yardley Jewelers in Yardley, Pennsylvania, opened his store in 1977, he was charging more than what other jewelers were charging for the same repairs in the Philadelphia area. How'd he stay in business? Honest, quality work, he says.
"When they sized a ring in Philly, many shops would just hammer stretch it, whereas I'd cut it and add a piece," says Dinola. "That extra care and effort comes with a higher price tag."
Dinola created his repair price list by finding out what other retailers in his region were charging for common repairs, comparing the quality of their work to his own, and factoring in the cost of running his business. He and his accountant figured out what it cost per hour to run his shop, and Dinola used that as a basis to price a five minute job, a 15 minute job, and so on. For odd repairs that are harder to estimate, such as a holloware job that requires removing dents from an old teapot, Dinola charges $75 per hour-a figure he bases on the cost per hour to operate his store.
Like many other retailers, Dinola bought David Geller's pricing book when it came out, and he's used it as a reference ever since. "Everyone's got Geller's book," he says. "It's the repair pricing bible."
But although Dinola thinks jewelers should use Geller's book as a guideline, he doesn't agree with every price in it. "Some repairs are priced too high, and some too low," says Dinola. "Sometimes, you have to do something that you aren't going to make your margin on-especially for a good customer, or a new customer who you want to get repeat business from."
And that philosophy has paid off for Dinola, who says that in the 26 years that he's been running a retail store, few customers have complained about his prices. "When they ask why it costs so much to retip 10 prongs on a ring, I explain the labor involved, and I give them a one year guarantee. I stand behind my work."
The only time Dinola will not guarantee a repair job is if he deems the piece poorly crafted, or if the customer doesn't want a complete repair. "For example, I've taken in rings for repair with one broken prong, but after examination I've found that all the prongs were thin and needed retipping. If the customer wants only the broken prong retipped, I can't guarantee that job."
In order to make sure his prices are on target with other retailers in the region, Dinola communicates with his competitors. He belongs to an informal group of jewelers that comprises seven stores within a 20-mile radius. They get together five or six times a year for dinner and conversation. "Many of us met at our AGS guild and GIA Alumni Association meetings," says Dinola. "We decided to start getting together for dinner, and it's been both fun and helpful for business. It gives us a chance to compare problems and find out what everyone's charging for common repairs."
But while it's helpful to know what your competition is charging, it's more important to be able to back up your own prices, says Dinola. "There's a jeweler up the street from me who charges $3 to put in a watch battery," he says. "I charge $9, but I clean the watch thoroughly, and may even put the band in the ultrasonic if it needs it. I charge triple, but I can explain what I do to the customer, and that's what matters."
In Dinola's opinion, honesty is essential to keep customers coming back. "Don't rip anyone off, because bad news travels faster than good news," he advises. "If you're fair and give them value, you'll get repeat business-and that's what this industry needs."