Couleurs de Crateres is an enameled lava workshop, established by Mrs. Nathalie Fourniat in 2001 in the Auvergne region of France. The region consists of inactive volcanoes, lakes, rivers, pasture land, and 500 million old rocks. Due to entrapped steam, these lava rocks cooled with a cellular structure. When cut into slabs with a water-cooled diamond saw, the surfaces have microscopic cavities. The slabs are less dense than most rocks, and have unique thermal and sound insulating qualities.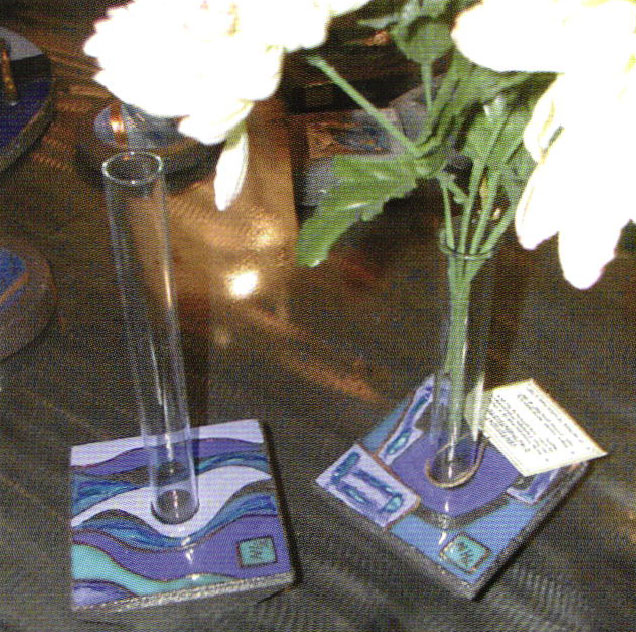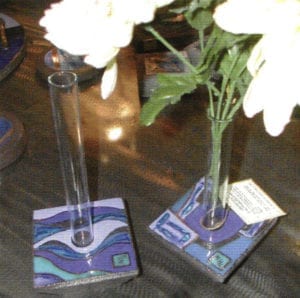 About twenty firms are in the regional market producing craft work. Couleurs de Crateres is a firm of four persons. They purchase either slices of lava blocks in standard thickness, or cut to specified size from a quarryman. After sawing, the slices are surfaced to remove the saw marks, and the edges are chamfered.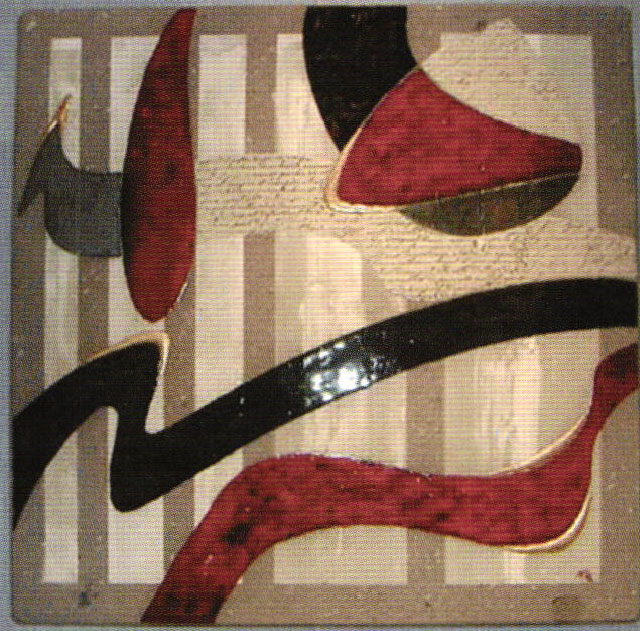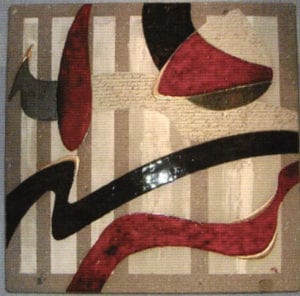 The enameler fills the holes in the lava slice with a mixture of silica, clay and feldspar, using a spatula. When dry, it is rubbed down with a piece of cork and fired at 980°C. Apparently, firing is the same as with glass – load the kiln at room temperature, bring it up to temperature, and allow to cool slowly.
The artist draws the pattern with a graphite pencil, then applies the enamels with a paint brush called a 'martrette.' The plate is then fired between 940°C and 960°C, depending on the pigments used.
"Cloisonne", is the most classical technique. Each color comes from a different enamel powder or of an enamel mix. The overall appearance is a slightly raised surface of a mosaic of colors in relief. (It appears there are no wires – the colors seem to be either juxtaposed, or stencil work.)
Other techniques mentioned are painted enamels, and silk screening, including four-color photographic screening often used to print characters and logos.
Products range from small jewelry to large furniture, including vases, mirrors, clocks, table mats, paperweights, trays, lamps, house number slabs, trophies, signs, etc. Sales are at the workshop, exhibitions, fairs, boutiques, galleries, and web site. The Atelier has produced more than 3500 pieces since starting in 2001.