Camille Fauré: Impossible Objects
Cork Marcheschi
lSBN 615-13229-4
172 pages; full color; 11 x 9 inches
This book demands to be opened.
What the eye sees instantly provokes excitement to the viewer…or disgust. Carnival eye candy, blown up and in slick wet photo detail demands your attention. Frozen cold mechanical painted ladies attract and repel. Stark geometric pattern grind into death an aesthetic with no remorse or emotion. There was to be no escaping the attraction.
Just look at the work. It eclipses all that Russia pretended. It was new and fresh and jazz the mind. Art Deco was short lived because it was stone cold and overtly mechanical, inhuman, like a machine.
The author, Cork Marcheschi, offers an accounting of an outstanding fluke in time. The book was not written for one who performs the act of enameling, but rather to give insight and document, in his words, impossible objects. This is a collector's reference book to give provenance and promote a greater dollar value.
The time period starts in 1919, when Camille Fauré, a sign painter, opened a shop after WWI that would produce exotic enameled objects of the machine age, for sale.
The book account suggests a great deal of mystery in tracking pieces down, and also accounts the time period when 'real' skilled workers were readily available. Under observed circumstance workers were moved in accordance to their ability. Those who could mechanically exaggerate a flat-sketched design onto a simply elegant three-dimensional form and then catapult it into a masquerade of geometric beauty of its own did not sign their names. They were just cogs on the wheel.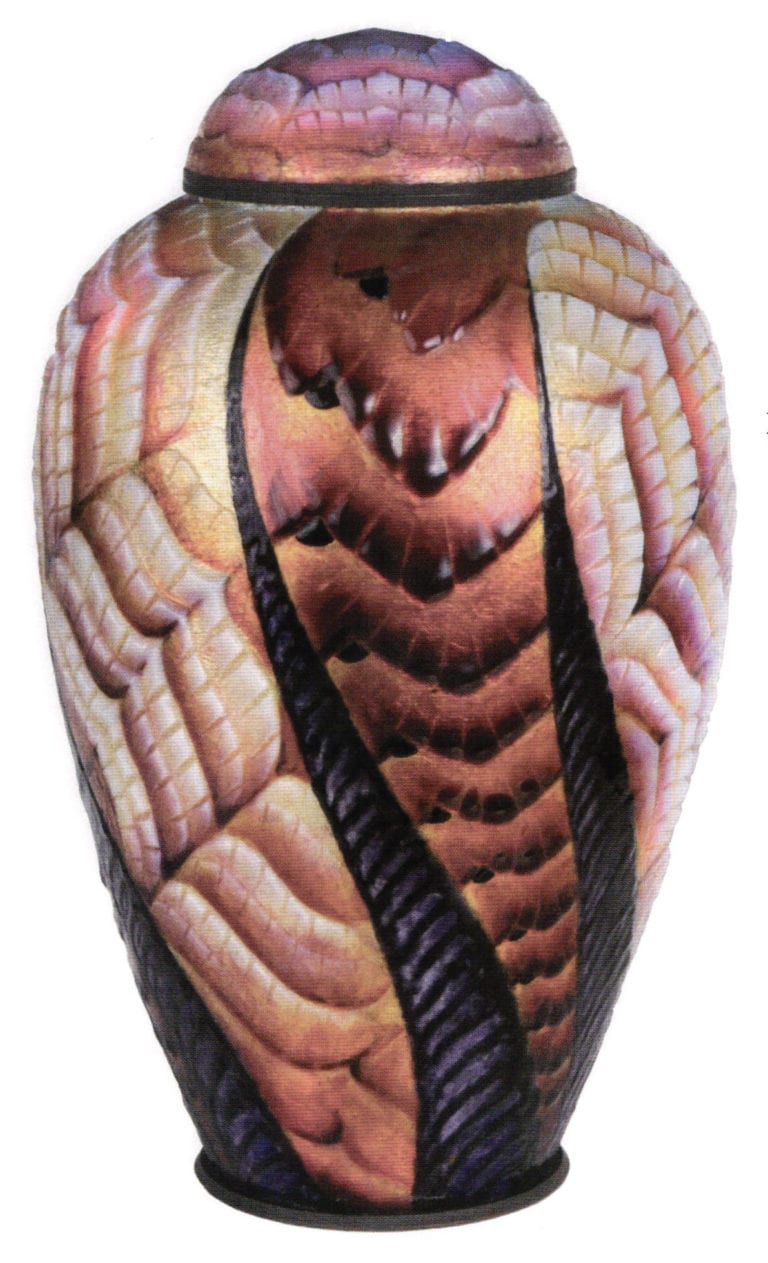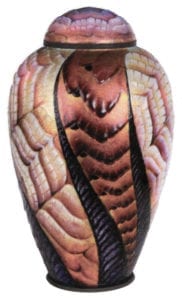 There were many copies of that which would sell and illustrates that there was skilled labor to depend on and likens the fact to that of an automobile plant production of the day. There were no revelations, other than that of a day's pay. As time passed, sales and the skill levels dwindled in accord to taste, from full robust full bloom to the fail want to be, between 1925 and 1940. The trick had worn out. The atelier of Camille Fauré didn't falter, it just became eclipsed by that more casual, less fluent.
The book illustrates this point honestly, while trying to maintain a point of importance. Then, the pieces were about teamwork. Those who applied the enamel particles did not fire the object, nor did they make the metal framework to which the enamel was applied. Most importantly, they did not have independence beyond that of qualifying as a skilled laborer.
The examples illustrate an abundance of innovation when it comes to theme and variation. The works are astounding and demonstrate Art Deco and enamel on metal at one of it's high points. The photographer, David Phillips, gave this book it's importance by visually representing the works with an accuracy that informs more than the words.
This presentation of Fauré will knock your socks off. The works are signed only Fauré, and were sold by a shoe salesman at the start.
Anyone who thinks that anything after 1980 is fresh and new will be reminded that they are more than just mistaken. What was happening in the United States in 1930?
HBH
A personal note: In the early 1970's, in a shop there was an opportunity for Lenore and I to handle two Fauré pieces. They were priced at 250 and 300 dollars. That was well beyond our means, we thought. It was about the second year after we had moved to Newport that we encountered our third piece. The price was 3000 dollars. Again, we could only admire the beauty. Mr. Carpenter was there and saw it, too. I couldn't, and he didn't. We both have regrets.