Authentic Mexican Earwires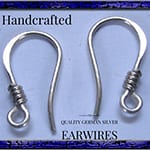 These handsome accessories are World Class Quality; they are Beautiful and Functional and they are Inexpensive. Absolutely insured to be safe for your ear, also that they work perfectly, so you never lose an earring when you do a somersault, or make love.
The ordinary commercial Chinese Fishhook Earwires are loaded in an ocean container by a crane with a magnet on the end of a cable. These earwires are marketed as "hypo-allergenic; is this very funny?
Handcrafted, Hand-hammered Earring Wires are Hypoallergenic and Classy! They are what the ears of you and your loved ones deserve.
By:
Artcamp