Agile F130
---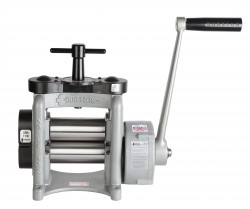 The all new low cost Agile 130 is a special addition to the range of Durston Rolling Mills, coming from the same stable as the DRM F130RE. It's lighter – by having thinner frames – but where the mill really needs its strength it's fully designed to support the load without any compromise on quality.
A traditional T-bar replaces the hand-wheel
The mill has a huge 135mm of flat area.
The rolls are specially induction hardened to 65 RC. The main barrel to a depth of 6mm ensuring your rolls last a life time.
The Agile 130's bearing blocks are fully supported, which is important to give the best possible rolled finish.
The bearings are self-lubricating and completely maintenance-free... while the beautifully formed square grooves have been specifically designed to produce the best possible rolled finish.
The heavy duty five-to-one gearbox is unrivalled in the industry and makes turning so much easier.
Behind the cover, you'll find two specially formed gears to make rolling even smoother.
Safety features include a protective guard around the top gears
All for USD 849,00
By:
Durston Rolling Mills
See Price and More Information